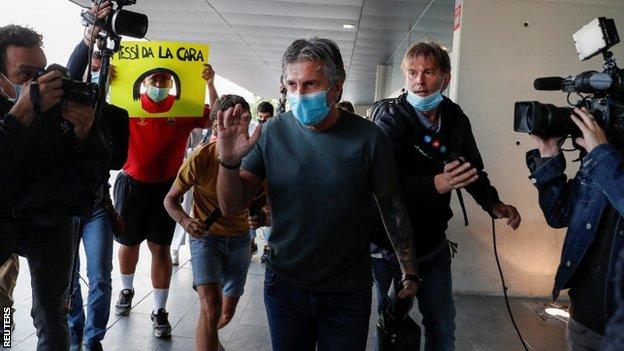 Lionel Messi's father and agent, Jorge, is due to meet Barcelona president Josep Maria Bartomeu to discuss the Argentine forward's future.
Spanish football journalist Guillem Balague believes there could be a legal case over a transfer fee.
"I think at some point we'll enter the agreement phase and Messi will leave," he said.
Manchester City have emerged as favourites to sign the six-time Ballon d'Or winner and Balague says the Premier League club have "convinced Messi already".
But Messi and Barca are in dispute over a clause in his contract and if he is not entitled to a free transfer, City would need Barca to accept far less than his buy-out clause of 700m euros (£622m).
"They (City) really want to get this to work," Balague told BBC Radio 5 Live. "It's just that the numbers have to match."
A clause was inserted in Messi's contract, which runs to 2021, relating to his ability to leave Barca on a free transfer. The clause stated he could leave if he informed the club before 10 June, a date which was intended to be the end of the season.
However, the coronavirus pandemic meant the 2019-20 campaign extended to 23 August, two days before Messi announced his intentions.
Jorge Messi had returned to Argentina but arrived at Barcelona's El Prat airport on Wednesday.
Analysis – I just feel Man City may have a solution
Guillem Balague
There will be a meeting at some point and we will enter the negotiation phase.
Barcelona are saying '700m euros, that's the cost of him leaving. We do not want to sell'. Jorge Messi's saying 'he can leave for free. Legally, we are in the right'.
Manchester City meanwhile, favourites to get him, are saying 'if we have to pay a transfer fee, and wages, we won't be able to do so'.
He is determined not to be at Barcelona and, legally, it seems they are more right than wrong. But fully right? We just don't know.
If there is a court case, then there is a judge saying how much he will go for, and that will depend on his age, on the length of contract, on the hurt to the club. There are so many variables but I think at some point we will enter the agreement phase and Messi will leave.
I'm hearing leaks from Manchester City saying 'we cannot pay 110m euros of his wages a year, plus 100m of a transfer fee. It's impossible. That cannot go into the budget'.
I just feel they may have a solution. They've convinced Messi already, but now they really want to get this to work. It's just that the numbers have to match.
We don't know how much Messi costs so we cannot speculate how far City's willing to go, or how far they can go.


BBC